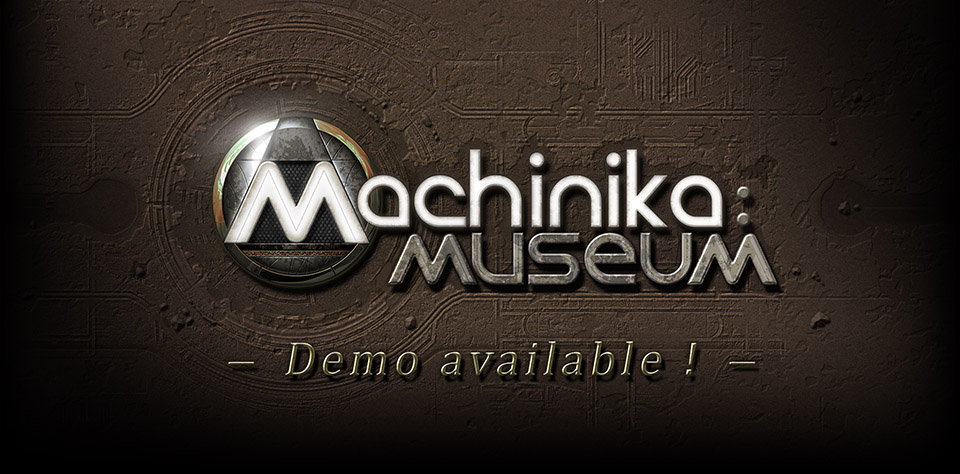 Machinika Museum
A downloadable game for Windows
Welcome to the Museum!
Come discover beautiful mysterious machines of extra-terrestrial origins, and use your logic and sense of observation to fix them; and uncover a galaxy-spanning story.
What are these machines? Who sent them? And why won't anyone give you answers? You will have to find for yourself. In this far future, finding machines from alien civilizations is not unusual, especially in a museum dedicated to them. But this time it looks like something might be hidden from you . . .




Machinika is a puzzle game for peole who like to have their brain teased and love a nice story to go along.
Do you like Myst? The Room? The Witness? Machinarium? Escape games? Do you like finding out what's behind a locked door? So do we!
Wonderful visuals, cryptic alien machines have never looked better.
Mysterious atmosphere and story: there is so much you don't know about yet...
Mind bending Puzzles: use your sharp logic skills and your sense of observation.
Intuitive and enjoyable controls. Why make it complicated?
Available in English and French.

Machinika started out as a mobile game: fiddling with machines on the touch screen is just so great... But we thought: we're PC gamers first of all; and it might just look nice on a large screen. So why not make a PC version? And sure enough, it works pretty darn well.
Do you agree? Do you disagree? Then leave us a comment.



Hi there!

We are Littlefield Studio, a team of 4 based in Paris, France. We have been working on Machinika Museum for three years now. And today we are super happy to properly unveil it! :) And, hey, what better way to do it than with a Demo? Why wait to have fun? Download it today.
Full game coming in a couple months, for PC & iOS.



Install instructions
We could give you instructions; but really it's a puzzle game, where would be the fun? ;)
Just extract the zip file, then double click the .exe file; and enjoy!
Download
Download
Machinika Museum Demo Windows.zip
119 MB
Also available on

Comments
Log in with itch.io to leave a comment.
excuse me, is the game still in development? i would love to see where this game is going!
NO COMMENT: This game is Incredible!!!!! I'm a very small italian youtuber and I would like to make a gameplay if I can of this incredible game! It have a very cool graphics and it doesn't lag when i started to record a video. Well done and i hope a second chapter to come out. Regards: Attilio Baldo (It's my channel name)
just played it and it's freaking amazing! well done, wonderful graphics!
Awesome concept, and a nice, very teasing demo. :) When is the full release coming out?

We don't have a firm release date yet, but it will be in the next couple months.

Just played this and loved it! AlphaBetaGamer said it was like The Room by Fireproof games and I love all games like that. Can't wait to buy the full version of this!
I did encounter one glitch though, once I completed it my mouse cursor disappeared. I have a touchscreen laptop so navigating back to the main menu and quitting the game was no issue, but might be worth looking into this.
Thanks for the nice comments! :)
As for the cursor bug, we noticed that too, and it is now fixed in the latest version available.

I LOVE all games similar to the ROOM so im going to love this!
Have you tried The House of Da Vinci? I backed it on Kickstarter and it was very fun.
yes ive completed that, a very good game just as good as The Room games. I just want the market to flood with these games lol
Oh wow, definitely looking forward to this. I'm a huge fan of the games you mentioned so this will be right up my alley! :)

Greeting citizens of the Earth, we are officially online!